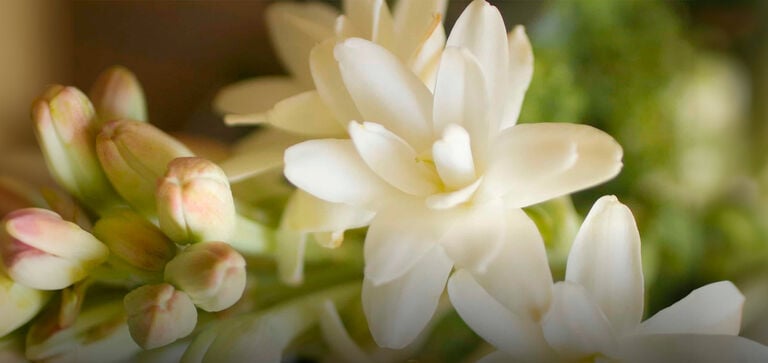 As summer
comes to an end...

Keep the warm days going with the "sunny notes" whose sillage has grown popular in the last two decades as we began to take winter trips to sunny destinations and aspire to year-round tanned skin.
It all began in 1927 when Jean Patou invented the first oil to tan the skin while protecting it from the sun's harmful effects. Named Huile de Chaldée, the oil released floral notes of rose, narcissus and jasmine and contained benzyl salicylate, a fragrant blender able to intensify "warm" floral scents and originally used as a UV-blocking substance.
A decade later, thanks to France's paid vacation introduced in 1936, a popular variation of the oil called Ambre Solaire featuring the same notes further popularized the scent. While the iconic fragrance of Ambre Solaire wafted through Europe's beaches, evoking warm sand, white flowers and sea spray, American vacationers were all reaching for Hawaiian Tropic suntan lotion with its delicious, creamy coconut scent.
«Sunny notes whisk us off to faraway places.»

Aqua Vitae forte
Almost legendary in our collective imagination, faraway places are home to fertile lands bearing a multitude of unique natural raw materials to transport us through scent – ylang-ylang, Tiaré blossom, frangipani and monoi. Today, the term "sunny notes" thus includes all the fragrances which remind us of vacation, exotic destinations and far-off places: voluptuous floral aromas of jasmine, orange blossom, frangipani, Tiaré blossom and tuberose, tropical fruity notes like coconut, mango and perhaps fig, and of course, the scent of Monoi.
Staying true to the classic formula, these accords are bursting with solar notes from the traditionally used benzyl salicylate, a chemical compound naturally present in a wide variety of flowers including lily, ylang-ylang, carnation and orange blossom. Today, this ingredient still anchors the different facets of olfactory compositions we know and love: soft and sensual spicy scents, fruity and milky accords like coconut, or almond aromas drawing inspiration from frangipane or heliotrope flowers.