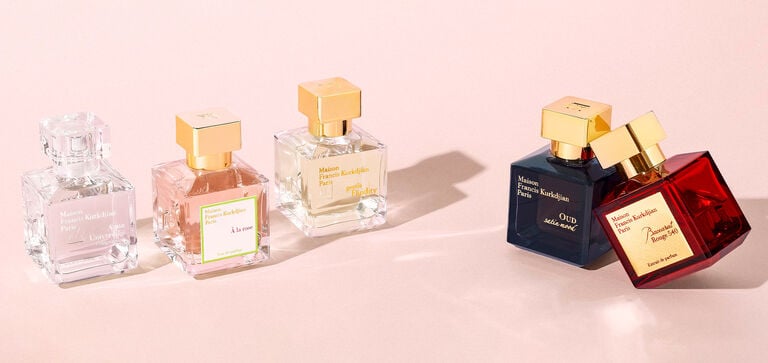 Fragrances
Composed like a fragrance wardrobe, the Maison Francis Kurkdjian collection offers exceptional scents. Each creation is like the olfactory signature of an emotion.

Women's fragrances
Our collection of perfumes for women is like a closet where each garment offers polished style and the olfactory nuances that express all facets of women's radiance and fulfillment.

Men's fragrances
Composed like an olfactory symphony, our collection of fragrances for men grants them freedom to express their personality with exceptional fragrances that reflect their wants.

Unisex fragrances
Our collection of unisex fragrances is composed of rare perfumes that unite man and woman in a shared story, a shared wake. A fragrance wardrobe meant to be shared at will.
Our icons
Express your personality by choosing one or more emblematic pieces from the Maison's fragrance wardrobe.
Gift Selection
Discover a selection of gifts for her, for him, or for home, then share with the ones you love.
Discovery Sets
Dive into the world of Maison Francis Kurkdjian with our discovery collections. Explore unique scents with perfume sets which will stir memories and dreams to aspire to the exceptional.

Our Collections
Dive into the collections of Maison Francis Kurkdjian and explore unique scents which will stir memories and dreams to aspire to the exceptional.