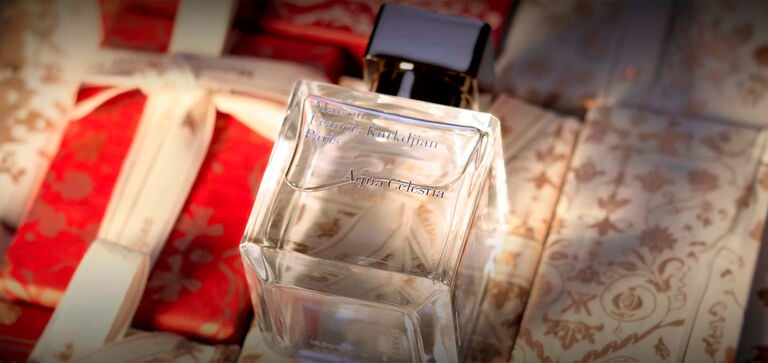 Choosing the right scent for yourself or a loved one can be challenging sometimes. I always draw a parallel between perfume and love. In some ways, finding the scent that suits you is like finding love. You have love at first sight, the love of your life, and loves that come and go. This is what life is about. Perfume is the translation of the world and era we live in, another expression of contemporary art. Perfume is all about us, and it tells so much about who we are.
So when it comes to gifting someone a scent, how should
we proceed?
In 2004, two American researchers were awarded the Nobel Prize for their work on how nose cells perceive smells and transmit the olfactory information to our brain. While this was a major scientific step forward, smell remains the most mysterious of our 5 senses as it is the most personal one: it relies on our olfactory memory. Our brain starts storing sensory and olfactory information from the time we are just a 12-week old fetus!
We are all different, coming from diverse backgrounds and parts of the world… Our childhood olfactory memories have different smells. So, it is easily conceivable that people react differently to the same scent.

"Even in fragrance, fortune favors the bold and the brave."


When it comes to fragrances, the idea of being happy about gifting someone a perfume can sometimes rapidly turn into an ordeal…
The easiest and safest way not to commit a faux pas is to gift your recipient the fragrance that she or he likes. It's safe but – let's admit it – it doesn't really show your personal engagement!
Fortune favors the bold and the brave so when you gift, you can say "I picked this scent myself for you, as this is how I envision you," or "This is a scent I would like you to wear." Or you can even say "Every time you put it on, you will think of me, of us..."
Another way that works well is to build your own story between the fragrance of your choice and the recipient of your gift. You can go by the shapes of the bottles, the colors of the fragrance, the brand, and of course the name of the scent.
If you really can't find the perfect fragrance, think about gifting a scented candle. It is a caring gesture, less intimate and emotionally involved than a fragrance, but which invites the soul on a journey.