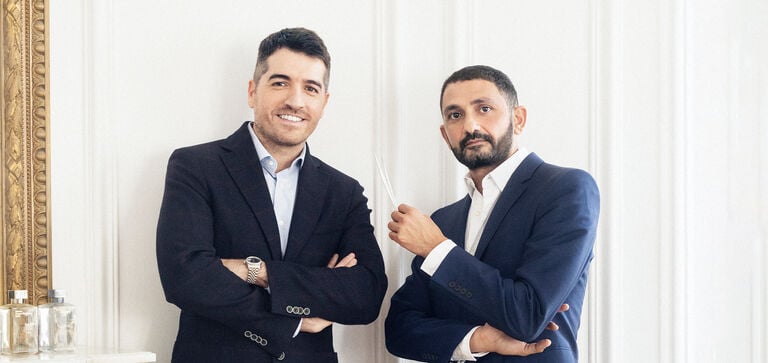 Our story
Maison Francis Kurkdjian was born in 2009 from the encounter between Francis Kurkdjian, a renowned perfumer with scores of successful creations to his name, and Marc Chaya, Co-founder and President of the fragrance house.
Together, they fulfilled their desire for a sensual, generous and multi-facetted landscape of olfactory free expression, creating a new emblem of French know-how and lifestyle.



Our philosophy
The Maison Francis Kurkdjian collection is worn as a fragrance wardrobe, with myriad of facets of emotions. Designed in the tradition of luxury French perfumery, it advocates nevertheless a contemporary vision of the art of creating and wearing perfume.
Maison Francis Kurkdjian's unique personality is fostered by the creative power of a man who has a taste for precision. Recognized as one of the world's most celebrated perfumers, Francis Kurkdjian imagined a fragrance territory of a free, sensual and delicate perfectionism.
The Maison is guided by enchanting yet precise codes: purity, sophistication, timelessness and the boldness of a classicism reinvented. Exceptional know-how come together and echo off each other. They are continually writing a number of sensory adventures, in which perfume is, naturally, the hero.

"My creations are an invitation to choose the scent that suits you daily, because I like the idea that each woman and man can express a part of themselves through perfume."
At only 24, Francis Kurkdjian composed his first perfume, "Le Mâle" by Jean Paul Gaultier, an international best-seller and game-changer of its time. Instead of relying on a very promising start to his career, he decided, as a precursor, to explore new possibilities and give olfactory creation a new artistic dimension.
In keeping with his visionary outlook, in 2001 he set up his tailor-made perfume workshop, against the general tendency of perfume democratization, while constantly putting his know-how and sensibility at the service of the greatest fashion designers (Rick Owens, Hedi Slimane, Riccardo Tisci, Alber Elbaz or John Galliano), as well as the most iconic houses (Dior, Guerlain or Saint-Laurent).
From 2003, artists like Sophie Calle, Christian Rizzo or Sarkis called on him to compose his first olfactory compositions. These encounters were the starting point of his quest to break down the boundaries between different fields and the senses.
He makes us dream with outstanding olfactory installations and master classes, in France or internationally, in superb settings and Art institutions: the Grand Palais, the Pierre Bergé – Yves Saint Laurent Foundation, Villa Medici, the Palace of Versailles, or Palazzo delle Stelline in Milan for world exhibitions.
In 2008, he was named Chevalier des Arts et des Lettres.

2009 - Co-founds Maison Francis Kurkdjian with Marc Chaya

2006 - Produces his first olfactory installation for Versailles Off

2003 - Launches his first artistic collaboration with Sophie Calle

2001 - Opens his bespoke perfume workshop

"Our mission is to bring joy to our customers by creating an uplifting journey through fragrances."
As a child, Marc Chaya was drawn towards art, architecture, drawing and literature, but his parents encouraged him to pursue a robust economics and business education. Chaya started his career at the global advisory firm EY, where he had a fast track and diversified career in finance, strategy, marketing & management.
He made it to partnership in less than 10 years – a firm record, and was appointed Global Telecoms markets leader at 32.
It was at that time that he met Francis Kurkdjian and was instantly taken by how little space and recognition the fragrance industry had, even for the most talented perfumers. They became close friends and Chaya started advising the perfumer on a strategy and roadmap to bring him at the center of the stage.
In 2009, they both felt it was the right time to co-create Maison Francis Kurkdjian, with Chaya leading the Company as CEO and Kurkdjian bringing the vision and talent behind the eponymous fragrance collection. They both work closely together on products aesthetics and the overall creative direction for the Maison.

The fragrant notes
My fragrant notes is an invitation to focus on the art of composing, explore a raw material or share with you Francis Kurkdjian vision of his perfumer's world.

Artistic conversations
His curiosity about others and his eclecticism mutually nourish each other. Each encounter, be it with an artist, artisan, musician, choreographer, writer or emblematic venue, has its own sincere and fragrant emotion.